Signaling Turns & Other Maneuvers: Hand Signals, Headlights & Car Horn
Updated Oct. 30, 2020
When it comes to sharing the road with other drivers safely, few things are more important than developing good communication skills. Your ability to communicate your intentions to other drivers directly affects your safety and the safety of those around you. Drivers must communicate with other motorists by all available means, using headlights, stop signals, turn signals, hazard lights, the car's horn and hand signals. Your situation will determine which communication devices should be used.
Hand signals should only be used if other signaling tools – such as turn indicators and brake lights – are malfunctioning. This is unlikely to happen, but you must be prepared for all eventualities. Your knowledge of hand signals will also be assessed during the driving test, so it is essential to master them.
Turn signals
Turn signals are the most effective way to communicate most of the intended maneuvers to other road users. You must activate your turn indicators when changing lanes, exiting or entering a traffic circle or making a turn. Drivers should activate their turn signals early enough to allow motorists behind them time to register and respond.
In most states, the turn signal must be engaged at least 100 feet prior to a turn and kept on until the maneuver is complete. This distance may vary slightly in different states, so we recommend checking your own driving manual for details.
Turn indicators may also be used as a substitute for emergency flashers, if the latter signaling device is not functional.
Hand signals for driving
All drivers must easily be able to recall hand signals for two reasons. Obviously, remembering your hand signals will be vital if your turn signals fail and you must communicate your intentions to other drivers. What new drivers often do not consider, is that they will also need to recognize hand signals when they are used by other motorists and cyclists.
Your vehicle may be new and unlikely to malfunction, but the same cannot be said of every other car you encounter while driving. Furthermore, cyclists use hand signals to indicate turns, lane changes and stops all the time! It is highly likely that you will need to share the road with cyclists at some point. Thus, the ability to recognize hand signals is essential.
Even with fully-functional turn indicators you may sometimes need to use hand signals when preparing to turn. It is recommended in most states that drivers use hand signals in very bright sunlight when their lights may not be visible, and when a row of cars may obscure their turn indicators from other drivers.
As we mentioned earlier, your ability to recognize and perform hand signals will be assessed during the driving exam. Kentucky represents the only exception to this rule, as their drivers are currently not required to use hand signals during the test. However, they will still need to recognize hand signals when they are used by other drivers and cyclists.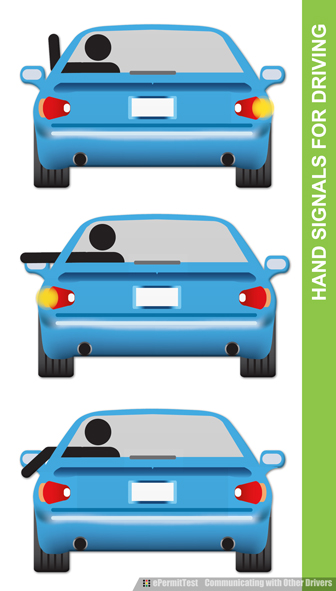 Signaling with headlights
Headlights are primarily designed to improve vision at night and during low-visibility situations, though they can also be used to attract another driver's attention. Often, flashing your headlights can serve as a warning signal. For instance, if another driver approaches you with their high-beam headlights on, you can flash your headlights a couple of times to notify them of the problem. If they do not respond by lowering their lights, you should avert your eyes to the right side of the road to avoid being blinded. Do not switch your own high-beams on in retaliation.
Signaling with the car horn
The car horn is a seriously over-used signally device. It is intended to warn other drivers or attract their attention in emergency situations only. Do not hit the car horn to express feelings of anger or frustration to other drivers and only use it when absolutely necessary. Drivers should only use their car horn when:
Attempting to avoid a collision
It is necessary (for safety reasons) to establish contact with another driver
Using your horn incorrectly can startle other drivers, cause accidents and put more vulnerable road users at risk. Under no circumstances should you use your horn to urge cyclists or other drivers to move faster, to alert other drivers of small mistakes that do not pose a danger or to indicate to pedestrians that they may use a crosswalk. We will talk about when you should and should not use your car horn in greater detail.
Signaling with taillights
Drivers should signal with their brake lights when they need to slow down or stop, if another vehicle is following too closely behind. Touching the brake pedal lightly a few times will make your brake lights flash and indicate to the other driver that they must increase their following distance. Do not brake suddenly when another driver is close behind you as it could cause a collision.
Would you pass a driving test today?
Find out with our free quiz!
TAKE A FREE TEST