Learning to Angle Park Your Vehicle
Updated Sept. 30, 2019
Angled parking spaces are designed to make parking easy. This maneuver is far less challenging than parallel parking or perpendicular parking but will still take a little practice to get right. Angled parking spaces are painted with the same dimensions pretty much across the whole of America: once you've mastered angle parking, you should be able to repeat the maneuver with ease anywhere.
Find an empty parking lot with angled spaces when you wish to start practicing this style of parking. This will allow you to maneuver at your own pace, without having to worry about other drivers. Always drive into an angled parking space forwards, as this is the way they are intended to be used. Backing into an angled space is trickier and should be avoided.
Step-by-step instructions
These are the steps you should follow when parking in an angled space:
1

Begin practicing the maneuver at a reasonable distance from the parking space.

2

Activate yourturn signalsor usehand signalsto communicate your intention to park.

3

Drive forward while remaining adjacent to the row of angled parking bays, until your front bumper lines up with the closest line of the space.

4

Steer sharply toward the parking space, centering the vehicle as you go.

5

Drive forward until your car has completely entered the space.

6

Be sure to straighten your wheels beforeleaving the vehicle, so that you can leave the space with ease.
Angled parking dimensions
Most angled parking spaces afford drivers plenty of room to maneuver, measuring at nine to ten feet wide and 20 feet deep. When correctly centered in the parking spot, you will have enough space to open your doors without damaging adjacent vehicles. On average, passenger cars are about six feet wide.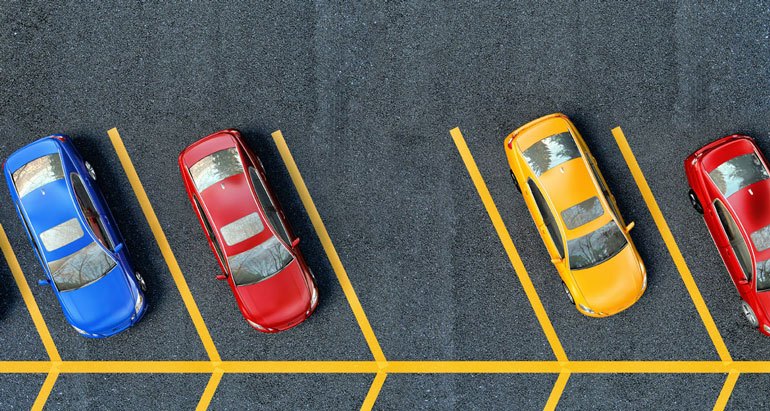 Parking spaces designed for angle parking provide plenty of space to enter and exit the vehicle without interfering with other cars, provided you park in the middle of the parking space.
Backing out of an angled parking space
Angle parking spaces should always be entered head-on. When you need to reverse out of an angle parking spot, begin by consulting your mirrors and turning to look behind the vehicle to make sure nothing is in your way. There may be other vehicles or pedestrians passing.
When you are certain it is safe, reverse until your front bumper is in line with the rear bumper of the car beside you. Then steer sharply in the direction you need the rear wheels to travel. Continue backing up slowly until you have totally cleared the angle space. Remember to keep an eye on the front of your car and do not turn too soon, otherwise you may scratch another vehicle on the way out.
Would you pass a driving test today?
Find out with our free quiz!
TAKE A FREE TEST